Responsible Timber Exchange
Founded in 2016, this free online trading platform is used to promote the use of tropical wood products from legal sources.

Source legal and sustainable timber products from all over the world, meeting the requirements of the UK (UKTR) and European Union (EUTR) and the US (Lacey Act), and contributing to the FLEGT Action Plan.
Trade Timber Online
BVRio Responsible Timber Exchange has an integrated Due Diligence Tool which was developed to facilitate the process of purchase of responsible timber. The system performs checks with several public and/or official sources and presents the results in a simple and practical way. Alongside these checks, documents demonstrating the origin and legality of the timber product are uploaded voluntarily by the seller to enable buyers to conduct their own due diligence.
Available in 6 languages
English, Portuguese, French, Chinese Mandarin, Bahasa Indonesia, and Spanish.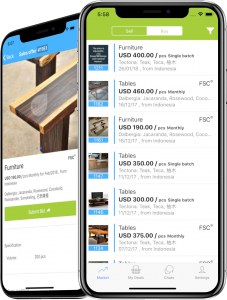 In June 2022 the Responsible Timber Exchange had:
Buyers and sellers in 54 countries
1400+ registered users
1600+ offers and quote requests
92 million cubic metres of timber products made available
Illegality in timber trading
Illegal logging is widespread across tropical countries, leading to forest degradation, loss of biodiversity, reduction in carbon stocks, and poverty. 
A significant barrier for the expansion of the production of sustainable and/or certified timber is the unfair competition posed by illegal operations.  Interpol estimates that between 50 and 90% of all tropical timber are from illegal sources, with lower production costs and no tax. This lower cost structure enables them to displace the legal sources in the market, resulting in financial difficulties for the companies involved in legal and/or certified sustainable production. Effective enforcement of environmental laws would create more favourable conditions for the responsible production of timber. At the same time, market tools could also contribute to the promotion of legal timber as a viable alternative to illegal forest products.